Given the clandestine origins of rollers, behind the scenes accounts of production are almost nonexistent. Mike Freeman offers brief summaries in the first volume of his I Pornographer autobiographies, while John Lindsay can be seen shooting films in Stanley Long's Naughty and his own documentary The Porn Brokers. While skimming through a number of Swedish porn mags from the early 1970s, I was surprised to find that issue 12 ERO included a feature on the making of a British blue movie. Now, I usually take such magazine 'features' with a pinch of salt, especially since many are fabricated excuses for showing naked flesh. However, I noticed that the 'behind the scenes' images included in the article matched the front cover box image for a film named Friendly Flatmates, released by the label Royal Film Productions.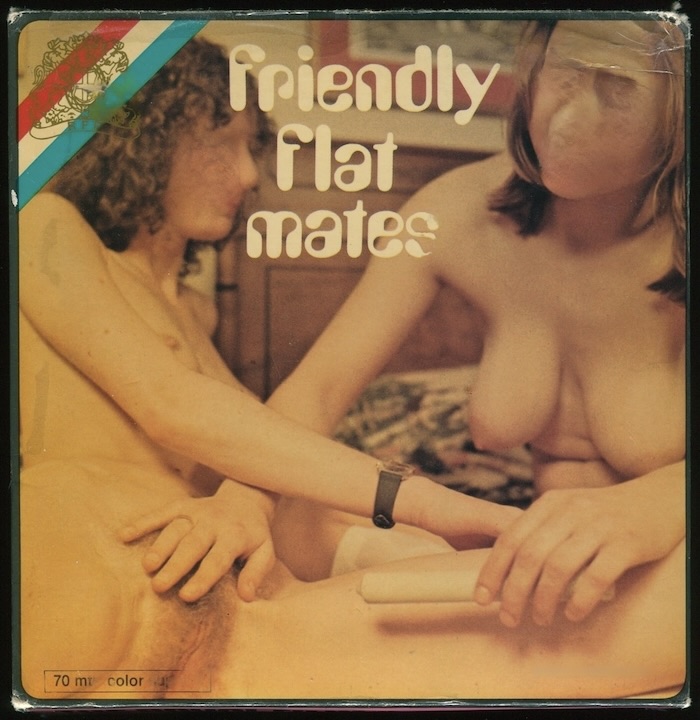 Royal Film Productions appear to have been a British based production team who made hardcore films for European distribution around the mid-1970s. When I interviewed German producer and distributor Gerd Wasmund, he described how he regularly employed professional freelance British crews to make the films he released through his Mike Hunter brand, many of whom were making documentaries and other productions, but had a side-line in hardcore. Wasmund told me that these freelance crews often produced their own hardcore films to sell to European labels. Might Royal Film Productions be a European specialising in releasing British produced content?
The Adult Loop Database suspects that John Lindsay may have had some involvement in Royal Film Productions, as some of the performers also appear in his mid-70s productions. I doubt this. If ERO's text and accompanying images are accurate it points to a different team, with the article naming 'Ralph' as their producer and noting that a BBC employee did the lighting. A more plausible explanation for the assumed Lindsay link is that Royal Film Productions used his modelling agency, Ragdolls, to source talent.
Below, I have reproduced the English text from the ERO feature. Sadly, like other accounts, there's a lack of detail and the focus is on the sex rather than the production. So, is this an accurate, but brief, behind the scenes account of a Swedish female journalist visiting Britain to witness the making of a Royal Film Production, or is it the figment of a male writer's imagination? Who knows, although I expect the truth lies somewhere in between.
ERO Report:
Making a blue movie in London

THURSDAY .
Arrives 4 p.m. at London Airport to compile a report on the making of a blue film. The producer Ralph and two of his cameramen pick me up. After checking in at the Sheraton Hotel we make a night of it at the Wheeler fish and chip restaurant in Soho. I notice that both Ralph and the two photographers should dearly like to fuck a Swedish sex reporter so I bring all three to the hotel.

The youngest of them had a pretty enormous cock which seemed set on squirting all the time. I have seldom swallowed so much sperm in a single night. But a qualified ERO girl copes with most things.

FRIDAY. 


The day begins with frantic telephoning for a male model as one of the cast had gone sick. In time we come up with a bit of a fatso, though he does seem a pretty randy fellow. Two girls and two men are now available. One of the girls is nicely padded and the other rather slim. After some drinks a start is at last made in fixing lighting and instructions. They had hired a lighting expert from the BBC. The whole thing takes a bit long and the models are losing their urge. More drinks and the atmosphere is better.


The girls start cock-sucking for pretty well all the men on the premises and then when they start licking one another they are in high spirits. Now it's sucking and fucking uninterruptedly for three hours, and I had to suck off the young photographer personally — he was getting so worked up he could hardly keep his camera still. The plot of the film was not very clear on this occasion, but Ralph told me that they had been working for three weeks all over the place, including one of the poshest discotheques in London.

SATURDAY.


In the evening a crazy orgy with the most depraved section of Swinging London. I think I was screwed by no less than ten different men and my cunt hurt and smarted when I staggered out to my plane to return to Stock­holm and some at least as depraved moments at the ERO office.